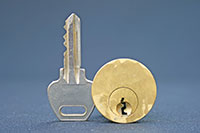 To prevent your house from being broken into, do you need to spend an arm and a leg to have fancy electronic home alarm systems installed? Not necessarily. As long as you know how to beef up the security of your home using these cheap fixes, then you're good to go:
Make sure that every door in your house has high-security locks and deadbolts
If you do not have the funds to spend on hiring a fancy security company to install an alarm system for your home, you can make do with what you have. First, make sure that every door in your house has deadbolts and high-security locks. No matter how sophisticated some alarm systems are, they still rely on the physical heaviness and security of deadbolts to ensure home safety. Inspect the screw which combines the door hinges to the door frame. You should replace anything that's below 1 inch – the maximum and most secure length for the screw is 3 inches.
Secure your front door
Next, make sure that your front door is secure. The minimal amount of protection that you should have on your front door is a high-security lock and a deadbolt. Resist the temptation of having doors with decorative glass because burglars can easily break it and unlock the door from the outside.
Don't forget to secure your windows, and side yard
If you have windows made from sliding glass, you can have the typical security alarm installed in them. But you can also install a pin that goes through the area between the track and frame, which is an old school security feature that cannot be disabled from the outside.
Other tips to cheaply but securely see to the security of your home
If you do not have a spare set of home keys yet, have one made by a professional. When handing over your car keys to the valet or a repairman at the garage, never place your house keys in the same ring where your car keys are. With these simple tips, you can have a cheap yet reliable fix to beef up the security at your home.